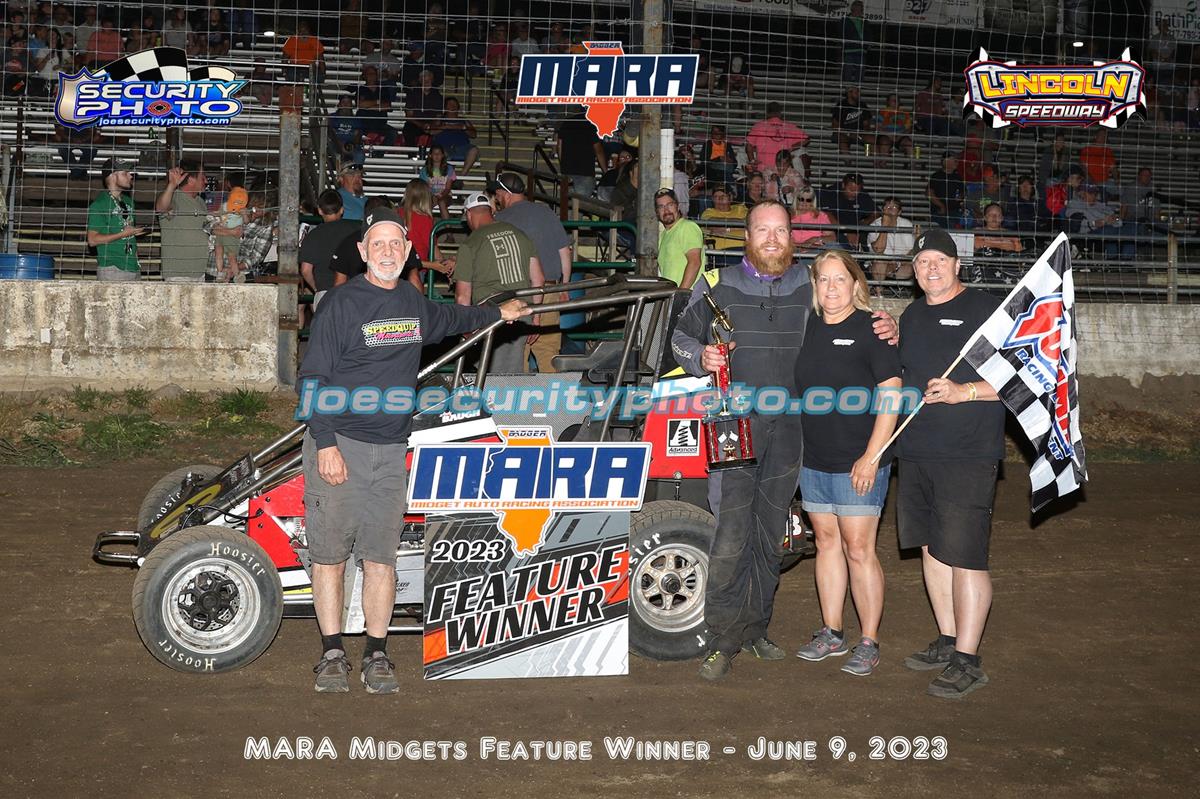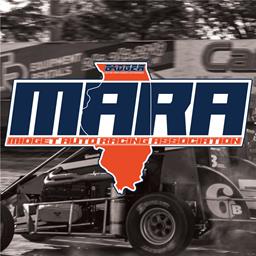 6/10/2023
Midget Auto Racing Association
---
Baugh Bests MARA Field at Lincoln Speedway
Lincoln, IL (June 9, 2023) - Andy Baugh bested the Midget Auto Racing Association field last night at the Lincoln Speedway in Lincoln, IL taking home the victory in a hotly contested A-main. This marked Baugh's first victory of the 2023 season and the third win for car owner Mike Raymond.
The event kicked off with 18 cars signing in to do battle in the fourth MARA event on the season and third at Lincoln Speedway. On track action started off with group qualifying where the 12D of Patrick Bruns took the top spot with a lap of 14.579 seconds. Austin Archdale followed in second with Kevin Battefeld, Andy Baugh, and RJ Corson rounding out the top five.
AgVenture/Wehmeyer Seed Heat one was won by Baugh, with Mark McMahill and Cody Beard second and third. Simpson Race Products Heat two found Bruns coming home with the victory followed by Daltyn England, and Battefeld.
Tyler Roth started the A-Main from the pole with Tim Siner alongside him on the outside. Siner grabbed the lead squeezing Roth into turn one. Baugh quickly made his way into third on the opening lap. Baugh began to battle Roth for second by lap three. Baugh found his way to the high side where he would remain for the remainder of the race. McMahill was on a roll in fourth as was RJ Corson in fifth as it quickly became a five car battle for the win. Quick qualifier, Bruns, entered the fray by the half way mark increasing it to a six car battle to the end. The best move of the race came from RJ Corson as he powered by four cars in turns one and two to take third spot for a short period when the lead pack encountered lapped traffic. Baugh, fighting a tight condition through turns three and four, allowed Bruns to close in for the final three laps. Bruns charged at Baugh but to no avail. Baugh took the victory over Bruns, McMahill, England and first time MARA competitor Corson rounding out the top five.
The MARA Midget Series will head to Sycamore Speedway for a co-sanctioned race with the Advanced Fastening Supply Badger Midgets on Saturday, June 10 at Sycamore Speedway. The next MARA standalone event is scheduled for July 2 at Lincoln Speedway. For more information visit the MARA series online at www.mararacing.com or follow the series on the MARA Racig Facebook page.
Summary
A Feature 1 20 Laps | 00:07:43.103
6-Andy Baugh[5]; 2. 12D-Patrick Bruns[8]; 3. 10C-Mark McMahill[3]; 4. 19E-Daltyn England[10]; 5. 15-RJ Corson[4]; 6. 77-Tim Siner[2]; 7. 18-Tyler Roth[1]; 8. 7-Cody Beard[9]; 9. 53M-Miles Doherty[12]; 10. 00-John Heitzman[14]; 11. 22K-Kelli Harter[11]; 12. 9-Keith Wilson[15]; 13. 42-Kevin Battefeld[6]; 14. 29-Harrison Kleven[16]; 15. 51R-Austin Archdale[7]; 16. (DNS) 7X-Korey Weyant; 17. (DNS) 40-Jace Sparks; 18. (DNS) 71H-Michael Hermacinski
AgVenture/Wehmeyer Seed Heat 2 8 Laps | 00:12:37.000 | AgVenture/Wehmeyer Seed
12D-Patrick Bruns[8]; 2. 19E-Daltyn England[3]; 3. 42-Kevin Battefeld[7]; 4. 15-RJ Corson[6]; 5. 77-Tim Siner[5]; 6. 22K-Kelli Harter[1]; 7. 7X-Korey Weyant[4]; 8. 9-Keith Wilson[2]
Simpson Race Products Heat 1 8 Laps | Simpson Race Products
6-Andy Baugh[6]; 2. 10C-Mark McMahill[5]; 3. 7-Cody Beard[3]; 4. 51R-Austin Archdale[7]; 5. 18-Tyler Roth[4]; 6. 53M-Miles Doherty[2]; 7. 00-John Heitzman[9]; 8. 29-Harrison Kleven[1]; 9. 71H-Michael Hermacinski[8]
Group Qualifying | 00:13:36.000
12D-Patrick Bruns, 00:14.579[9]; 2. 51R-Austin Archdale, 00:14.645[8]; 3. 42-Kevin Battefeld, 00:14.658[14]; 4. 6-Andy Baugh, 00:14.688[11]; 5. 15-RJ Corson, 00:14.716[15]; 6. 10C-Mark McMahill, 00:14.728[5]; 7. 77-Tim Siner, 00:14.746[17]; 8. 18-Tyler Roth, 00:14.878[10]; 9. 7X-Korey Weyant, 00:14.885[2]; 10. 7-Cody Beard, 00:14.923[4]; 11. 19E-Daltyn England, 00:15.078[7]; 12. 53M-Miles Doherty, 00:15.194[1]; 13. 9-Keith Wilson, 00:15.443[12]; 14. 29-Harrison Kleven, 00:15.692[3]; 15. 22K-Kelli Harter, 00:15.806[6]; 16. 71H-Michael Hermacinski, 00:16.609[13]; 17. (DNS) 40-Jace Sparks, 00:16.609; 18. (DNS) 00-John Heitzman, 00:16.609
---
Article Credit: Zack Krueger
Submitted By: Zack Krueger
Back to News