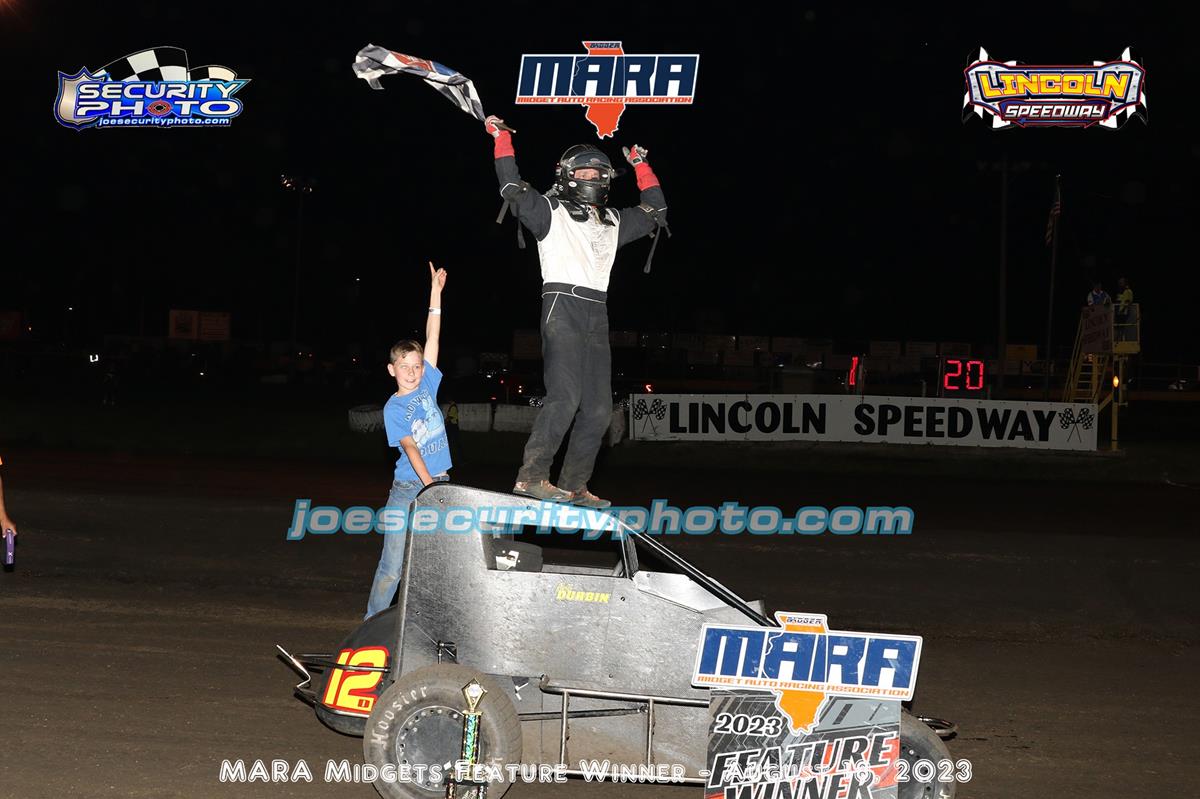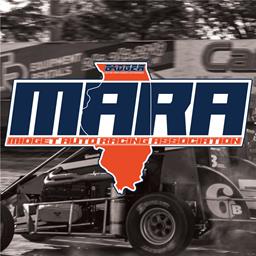 8/19/2023
Midget Auto Racing Association
---
Bruns Bests Field for Third Win at Lincoln
Lincoln, IL (August 18th, 2023) - Patrick Bruns continued his Lincoln Speedway domination by picking up his third feature win of the season. Bruns had to fight from his ninth place starting spot to pick up the win.
Fifteen cars signed into the pits for a wonderful night for racing. Points leader Mark McMahill walked in with a 39 point lead over second place Daltyn England. Two time feature winner Patrick Bruns made the trip, as well as drivers like Miles Doherty, Jace Sparks, and Tyler Roth.
The #12D of Bruns picked up quick time with a 14.188, second went to McMahill with a 14.493, and third to Mitchell Davis with a 14.496. The top five was rounded out by Gedd Ross and Tyler Roth.
Simpson Race Products Heat 1 went to McMahill with Ross and Sparks second and third. AgVenture/Wehmeyer Seed Heat 2 saw Bruns pick up the win with Roth and Doherty rounding out the top three.
The AgVenture/Wehmeyer Seed Feature lined up with the #7X of Korey Weyant on the pole and the #19E of England second. England got the best start, being able to get a half a second gap on the field before the yellow came out for the #40 of Sparks. England, Doherty, and Weyant were the top three as England led the field back to green. England got a good start once again as Ross moved into second. Slide jobs galore for second made the fight one to witness as it was a six car battle for the second step of the podium. Ross moved into the race lead on lap six on the high line. Bruns made his way past England and into second on lap eighth and started to track down the leader. Bruns made the move on lap thirteen for the lead before half spinning, losing the lead. A roll for Weyant brought out the red flag, as Doherty was involved in the accident as well. Ross, Bruns, and England restarted from the top three positions with six laps to go. The battle was for the lead as Bruns sent a slide job on Ross for the race lead with three laps to go. Ross and Bruns raced hard in the final three laps as both cars showed battle wounds from the heated feature race. Bruns cleared Ross with one lap to go and drove into victory lane, picking up the win. Ross came home second with Roth in third. Tim Sinner and McMahill rounded out the top five.
The Midget Auto Racing Association returns to Sycamore Speedway Saturday, August 18th, along with the Advanced Fastening Supply Badger Midgets. The series makes its final trip to Lincoln Speedway on August 25th.
For more information visit the MARA series online at www.mararacing.com or follow the series on Facebook.
Summary
15 Entries
A Feature 1 20 Laps | 00:20:56.790
12D-Patrick Bruns[9]; 2. 51R-Greg Ross[6]; 3. 18-Tyler Roth[5]; 4. 77-Tim Siner[14]; 5. 57M-Mark McMahill[8]; 6. 19E-Daltyn England[2]; 7. 15C-RJ Corson[11]; 8. 29-Harrison Kleven[12]; 9. 5-Jacob Sollenberger[10]; 10. 71H-Michael Hermacinski[15]; 11. (DNF) 7X-Korey Weyant[1]; 12. (DNF) 53M-Miles Doherty[3]; 13. (DNF) 6B-Mitchell Davis[7]; 14. (DNF) 51-AJ Hill[13]; 15. (DNF) 40-Jace Sparks[4]
AgVenture/Wehmeyer Seed Heat 2 8 Laps | 00:04:43.225 | AgVenture/Wehmeyer Seed
12D-Patrick Bruns[7]; 2. 18-Tyler Roth[5]; 3. 53M-Miles Doherty[4]; 4. 6B-Mitchell Davis[6]; 5. 7X-Korey Weyant[3]; 6. 15C-RJ Corson[1]; 7. (DNF) 51-AJ Hill[2]; 8. (DNF) 71H-Michael Hermacinski[8]
Simpson Race Products Heat 1 8 Laps | 00:06:17.105 | Simpson Race Products
57M-Mark McMahill[7]; 2. 51R-Greg Ross[6]; 3. 40-Jace Sparks[5]; 4. 5-Jacob Sollenberger[3]; 5. 19E-Daltyn England[4]; 6. 29-Harrison Kleven[1]; 7. 77-Tim Siner[2]
Group Qualifying | 00:06:33.273
12D-Patrick Bruns, 00:14.188[8]; 2. 57M-Mark McMahill, 00:14.493[10]; 3. 6B-Mitchell Davis, 00:14.496[9]; 4. 51R-Greg Ross, 00:14.524[13]; 5. 18-Tyler Roth, 00:14.641[1]; 6. 40-Jace Sparks, 00:14.665[4]; 7. 53M-Miles Doherty, 00:14.773[7]; 8. 19E-Daltyn England, 00:15.009[11]; 9. 7X-Korey Weyant, 00:15.063[14]; 10. 5-Jacob Sollenberger, 00:15.245[3]; 11. 51-AJ Hill, 00:15.262[5]; 12. 77-Tim Siner, 00:15.308[6]; 13. 15C-RJ Corson, 00:15.589[2]; 14. 29-Harrison Kleven, 00:15.866[12]; 15. 71H-Michael Hermacinski, 00:15.866[15]
---
Article Credit: Zack Krueger
Back to News